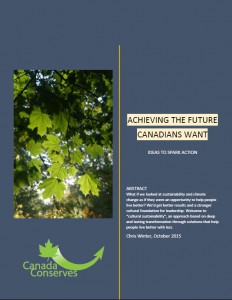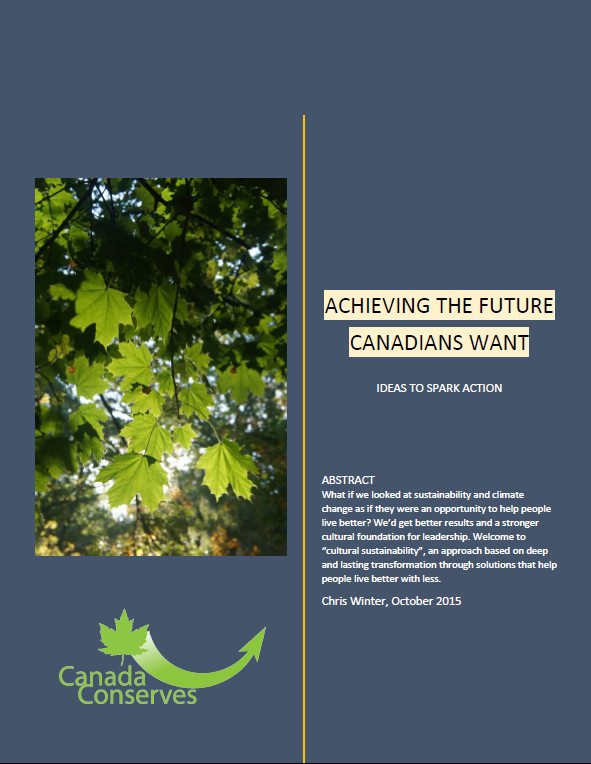 One groundbreaking theory and 20 bold ideas
Three years ago, I started the Canada Conserves initiative to draw attention to the need to focus on solutions that would help Canadians live better with less. Today, I have the answers: they are incredibly obvious, and they present a challenge for Canada's leaders, be they environmental, business, or in government.
Achieving the Future Canadians Want is the latest  paper in the Canada Conserves research series. It follows up on the report card on sustainability leadership in Canada, and proposes a way to break through the deadlock and acrimony around climate change and sustainability.  The logic flows like this:
To get action on climate change and sustainability we need public support;
To get meaningful and lasting action on climate change we need deep cultural support.
To achieve deep cultural support we need to focus on solutions that build a stronger Canada and that improve the quality of life of Canadians.
To have the maximum impact, we need to focus on initiatives that will encourage and empower the maximum number of people to take action in their own lives and businesses.
In short, all our climate and sustainability campaigns and strategies need to incorporate a focus on the personal and social benefits to action. They need to help Canadians live better with less. Okay, that may seem obvious, but the reality is that climate action is marketed as an environmental imperative and a social responsibility, not an opportunity to create the future we want.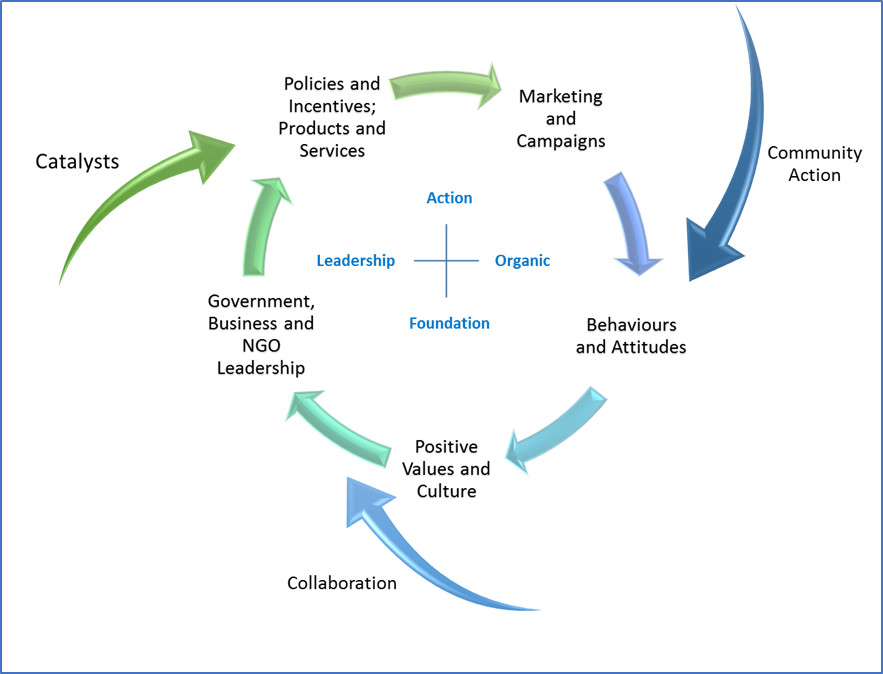 This is more than just a marketing angle, however, it is about designing complex climate strategies that empower rather than force change, and that use strategic interventions as a catalyst for organic, voluntary change. It is about creating opportunities to build a better future.
For example, carbon pricing should be the fiscal tool for financing transit, energy conservation and renewable power. A Future Fund would ensure revenue neutrality and transparency in flowing funds back to people and businesses via improved infrastructure and conservation incentives.
A focus on cultural sustainability means that we are constantly strengthening the cultural support for action through actions that improve people's lives and builds stronger communities. That cultural support is the foundation for further action and leadership.
This changes everything
If we start by looking at the future we want, then the whole approach to defining and delivering solutions begins to change. The silos begin to break down, because everything is connected to a common vision. We see value in collaboration and collective impact, and see the need to invest in the social and economic capacity to deliver solutions.We need to reverse the trend over the past twenty years which saw steadily declining funds for community action, tighter mandates on project funding, and increased emphasis on  micro-management, reporting and specific deliverables.
20 ideas for action
What does this mean on the ground? I've come up with 20 big ideas that will build capacity for community action, increase collaboration in support of a national vision, and kickstart new initiatives to support action on the future we want.
Community action
Create community-based action plans
Create a national community action network
Host community town halls – the Future We Want
Initiate national campaigns on signature issues
Develop a national community ambassadors program
Establish a National Green Corps
Create a national green directory
Create a national green leadership recognition program
Create a national green card
Create community innovation centres
Create a national schools sustainability challenge
Celebrate our Sesquicentennial
Collaboration
Create a national collaboration
Craft a national vision
Convene a national high-level conference on The Future Canadians Want
Draft a national strategy: The Future Canadians Want
Initiate campaigns to promote specific solutions
Catalytic Interventions
Create Ministries of Environment and Sustainability
Create government Future Funds
Rethink charitable funding and fundraising
What next
Clearly, there are some challenging ideas in this paper. To implement new approaches will require leadership – from the environmental community, other organizations, business, funders and governments.
Organic change
The ideas in the paper can be adapted and adopted by individual organizations in their work.
Strategic Change
There are a number of ways in which we can move forward strategically:
Identify a host organization and initial partnership
Create a new government initiative
Create a new national collaboration
Develop Individual components
The Twenty: project research and partnership development via Canada Conserves
Ongoing mapping and research via Canada Conserves
Your comments and support
I'd welcome your thoughts, and especially ideas on how we can move forward and pledges of support to host or fund further work. Please drop me a line at chris@canadaconserves.ca.