Great places to live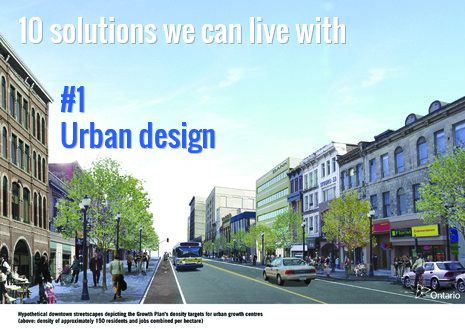 As Canadians, more than anything else in the world, what we want is a great place to live.  Not just a nice home, but a community we can be proud to live in.  It turns out that good urban design is also at the heart of Canada's ability to create a sustainable future.
Nothing else will help us live better and sustainably at the same time than compact and efficient urban design.  It gives us walkable neighbourhoods, better transit and cycling, and great places to go.
If the solutions to global issues are local, then its time we made urban design a national priority.
Urban Villages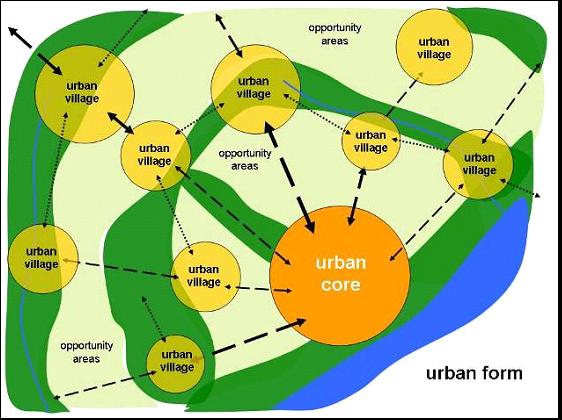 At the heart of good urban design is the urban village.  It's based on the idea that, no matter how large a city is, people want to be part of a neighbourhood village.  Everything you need on a daily basis — schools, health care, food, home supplies, social services, entertainment, and recreation — should all be close by and accessible on foot.
In larger communities, the urban village are linked together by transit and cycle routes, and the urban core provides opportunities for higher order services, such as the local government, hospitals, universities, large retail stores and business centres.
 Over 80% of us live in urban areas, so this is a solution that affects most Canadians.
Live Local
Of all our top ten conserver solutions, this one depends the most on strong government and business leadership.  As individuals, however, there are things we can do.
Take a walk before you buy or rent,.  You're not just buying a home, you're buying into a community.  For a quick guide, plug your new address into WalkScore to see how your new neighbourhood stacks up on the walkability index.
Do the math. If you are thinking of buying a suburban home because it is cheaper, do the math first.  Count the extra number of cars you will need for your family.  The cost of two extra cars is roughly equivalent to an extra $250,000 in property value.
Get involved.  A community is only as good as its volunteers.  Be part of your neighbourhood associations, service and sports clubs, and/or local arts and culture.
Shop local. Support your local businesses, restaurants and community events.  Invest in your community.
A resource factsheet on urban design will be posted shortly.