Targeting zero waste and pollution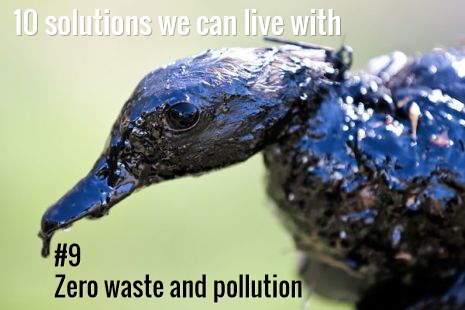 This is the one solution we have to tackle, whether we like it or not.  We produce a lot of waste and pollution, and we should resolve to do better. It's not something we should tuck away in a corner, or cover with a blanket.
There's the everyday waste and the steady trickle of contaminants into our waterways, and there's the dramatic spills and devastation of pristine wilderness.   Both are unacceptable.
We pride ourselves on having a beautiful country and pristine wilderness.   We need  to keep it that way!
The image at right may represent the worst scenario, but the truth is that waste and pollution are rife throughout our society.  Our storm drains can be just as big a cause of pollution as a major spill.
Three things that would help:
Pollution Prevention – a strong pollution prevention ethic by both government and industry, which means starting with products and processes that eliminate the need for hazardous substances.
Integrated materials exchange – improved re-use and recycling of waste materials by businesses and municipalities.
Safe disposal – improved collection rates for household and industrial hazards.  Full recovery rates will, in turn, bolster the rationale for pollution prevention.
What you can do
Solid Waste
Reduce.  Avoid over-packaging and disposable products.
Reuse.  Make things last longer.
Recycle.  Sort your garbage and recycle you can.
Pollution Prevention
Go toxic free.  Start with toxic free options
Reduce.  Minimize what you buy and use
Dispose safely.  Make sure all your hazardous waste goes to a household waste collection facility. Contact your municipality for local details.
The Conservation Council of Ontario produced a community Toxic Free manual which contains more information and ideas for community toxic free campaigns.