Go Green Saskatchewan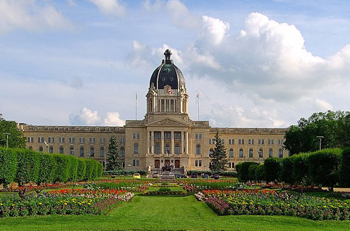 Saskatchewan does not have a formal plan, but it does have a Go Green Saskatchewan initiative to help find solutions to the environmental challenges facing the province, the country and the planet. Due to its reliance on coal, natural gas and other fossil fuels, Saskatchewan has a relatively high green house gas emissions rate.
Through Go Green Saskatchewan, the provincial government is committed to helping homeowners, communities, schools, hospitals and businesses Go Green in their day-to-day lives.
The government will also do its part to Go Green and reduce its own environmental footprint. All new government vehicles will be hybrid or high fuel efficient. Every ministry will set measurable goals and targets to reduce their environmental footprint and report publicly on their progress.
There is no overview document or progress reports for Go Green Saskatchewan, and the ministry goals and targets are not yet available online.
There are a number of environmental initiatives that are associated with Go Green Saskatchewan, including:
the Go Green Fund to assist Saskatchewan's people, communities, non-government organizations and businesses address the province's most important environmental issues.

Programs for Homeowners / Residential Users

to assist homeowners and residential users Go Green in their day-to-day lives, such as rebates for low-flush toilets, a renewable power loan program and energy efficient rebates for homeowners.