A Greenhouse Plan for the Northwest Territories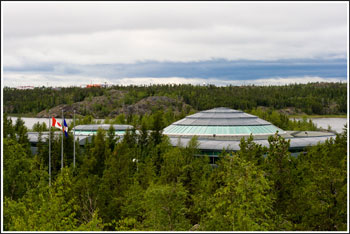 The Northwest Territories has had a greenhouse plan since 2001, updated in 2007, and again in 2011.
The NWT Greenhouse Gas Strategy 2011-2015 outlines the GNWT's plan and actions to control greenhouse gas emissions in the NWT for the next five years and beyond 2015.  Reports supporting the new Strategy include:
NWT Greenhouse Gas Emission Targets:
Stabilize emissions at 2005 levels (1,500 Kt) by 2015.
Limit emissions increases to 66 percent above 2005 levels (2,500 Kt) by 2020.
Return emissions to 2005 levels (1,500 Kt) by 2030.
Key sectors targeted under the plan include Electricity Supply, Buildings and Energy Efficiency, Communities, Industry, and Transportation. Detailed sector goals and actions can be found in Appendix 1. of the strategy.
NWT backs up their strategy with a series of incentives and support programs to help conserve energy:
The NWT Greenhouse Gas Strategy will continue to be a "living document" and can be revised in future years, as more information becomes available. Changes in either the national and international context, in the knowledge base (science, analysis of impacts and technological advances) or in the NWT economy will result in an update of the Strategy. Actions will need to be refined as new knowledge is gained and as new technologies and practices become available.  The Department of Environment and Natural Resources will track progress on an annual basis and begin another review of the Strategy in 2014. A revised Strategy will be developed for release in 2015.