Alberta's Climate Change Strategy — November, 2015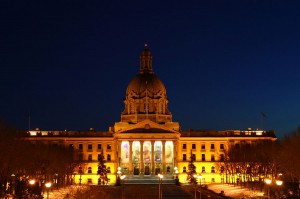 It's hard not to think of the oil sands when thinking of Alberta — a major source of oil in a dwindling global supply that is hard to extract and highly polluting.  Nowhere is the tension between consumption and protection greater than in Alberta, as is the need for a conservation ethic.
Well, Alberta has taken the challenge to heart, with a Climate Leadership Plan.
Alberta is developing a new strategy on climate change based on recommendations put forward by the Climate Change Advisory Panel. Details of the final strategy are being developed, but there are 4 key areas that the Alberta government is moving forward on:
Phasing out coal-generated electricity and developing more renewable energy
Implementing a new carbon price on greenhouse gas pollution
A legislated oilsands emission limit
Employing a new methane emission reduction plan
Pollution from coal-fired sources of electricity will be phased out completely by 2030. In place of coal, cleaner sources of generation (e.g., natural gas, wind, solar, biomass) will meet our power needs. Greater investment in renewable energy projects over time will help Alberta work towards a cleaner energy future.
A key component of Alberta's response to climate change will involve replacing our present emissions intensity carbon pricing program with one that is based on an emissions performance standard. Alberta's use of a carbon price would cover 78 to 90 per cent of provincial emissions, which would be the highest in Canada.
The price will be introduced in two steps: $20 per tonne in January 2017 and $30 per tonne in January 2018. All funds raised will be invested back into Alberta. This new approach is expected to generate sufficient revenue to help fund:
Provincial efforts to reduce greenhouse gas emissions
Research and innovation
Green infrastructure
Development of renewable energy projects
An offset of potential cost increases for low- to mid-income Albertans.
Alberta will transition to a $30/tonne carbon price for oil sands facilities to drive towards reduced emissions. A legislated maximum emissions limit of 100Mt in any year, with provisions for cogeneration and new upgrading capacity, will help drive technological progress and ensure operators have time to develop and implement new technology that takes more carbon emissions out of every barrel and reduces Alberta's overall emissions.
Alberta is targeting a 45 per cent reduction in methane gas emissions from Alberta's oil and gas operations by 2025.
 Reporting
Alberta produces State of the Environment reports. Four types of indicators monitor the cumulative effects of development on the environment:
Condition indicators measure environmental quality at any given time; for example, the level of a substance in our air or water.
Pressure indicators measure activities that affect or impact the environment, such as air emissions or wastewater effluent.
Response indicators measures behavioral changes that help reduce pressures on the environment as a result of management actions, such as measuring the percentage of waste diverted from landfills through a recycling program.
Performance Indicators measure the success of management actions the government takes to improve the environment. These actions produce the desired changes in targeted condition, pressure or response indicators.
Indicator information is organized according to Air, Water, Land, and Biodiversity. These pages contain maps, graphics, detailed information, technical reports, environmental data and links to additional information.
Historical
2015 – Climate Leadership Discussions (website)
A change in government brings a change in approach.  Alberta has set up a Climate Change Advisory Panel to engage Albertans, Aboriginal communities, and technical stakeholders on key issues related to climate change.
A new climate strategy will follow.
2008 Climate Change Strategy
In 2008, Alberta published a Climate Change Strategy that recognizes that climate change is real, that the global economy is dependent on oil, and that Albertans want their province to take the lead on conservation and green energy production.
The strategy has set targets for reducing carbon emissions:
By 2010: reduce emissions by 20 megatonnes
By 2020: reduce emissions by 50 megatonnes
By 2050: reduce emissions by 200 megatonnes
These targets, however, are reductions in the business-as-usual scenario, and thus emission are project to rise in the short term and fall to below 2005 levels around 2035.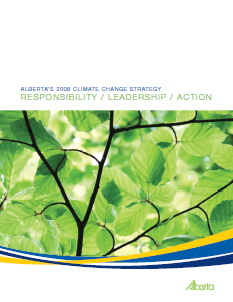 The strategy is built around three main components whereby the province expects to achieve its targets, with the majority of anticipated reductions coming from carbon capture technology: