Affordable, efficient, and comfortable transit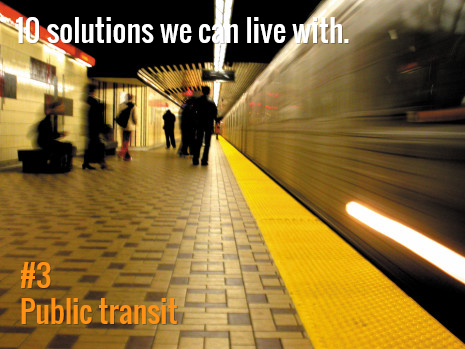 Poor transportation is time and money lost.   We all need to get from A to B and back again, and most of us need to do so five days a week.  So the more efficient and affordable we can make our transit systems, the less time and money we will waste.
Our old system of highways and individual cars may have worked fine in times of cheap oil and low density, but times are changing and a complete rethink of how we move around is needed.
If we truly wish to keep our cities productive and livable, then we need to invest in major upgrades to our urban, suburban, and inter-urban public transit systems.
Good transit starts with good urban design.  The more people can work and shop locally, and the better the cycling infrastructure, the less we will depend on public transit.
Transit kicks in once we are unable to get there by walking or cycling.  A good system will seamlessly integrate different types of transit:
village transit – community routes to provide access to local schools and amenities
feeder routes to connect neighbourhoods with transit nodes
express routes to handle rush hour and other high volumes
LRT and subways for consistent high volume traffic
inter-urban rail to connect towns and regional transit
How to help
Take transit.  Make transit part of your transportation mix.  Walk or ride a bike when you can, but leave the car at home if transit is a viable option.
Get involved.  Most municipalities have transit plans, and many municipalities have groups that advocate for better transit.